Watch: Indian Dance Crew 'V. Unbeatable' Wows Judges on America's Got Talent
July 25, 2019 14:27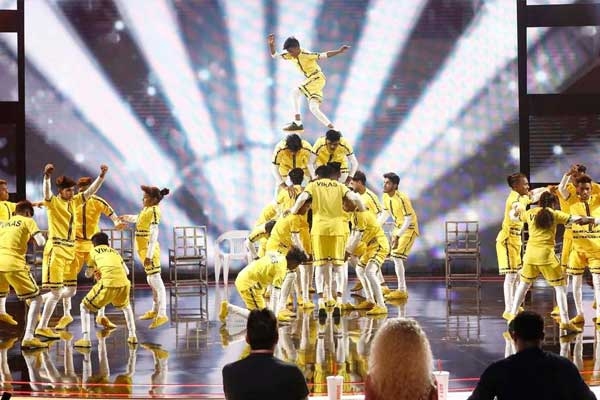 (Image source from: The National)
Indian dance crew, V. Unbeatable, impressed judges on America's Got Talent's Judge Cuts elimination round on Tuesday, with a dazzling, aerobatic performance.

Former American professional basketball player Dwyane Wade and the husband of a regular judge, Gabrielle Union, was a guest judge for the episode.

America's Got Talent full judging panel has Simon Cowell, Howie Mandel, Gabrielle Union, and Julianne Hough.

Wade was so blown away by the troop that he hit his Golden Buzzer, fast-tracking the group to the show's final. The group of 29 young men and women performed splendid dance moves, jumps and stunts to the song Tattad Tattad, from Ranveer Singh's hit movie, Goliyon Ki Raasleela Ram-Leela.
On stage, the group explained that their act is a tribute to a young man named Vikas.

"We are here to fulfill the dream of a boy whose name was Vikas," the crew leader told the judges, clarifying why the back of their yellow shirts reads, "Vikas".

He then went on to explain an accident in a practice session six years ago, when Vikas tragically fell.

"His body was paralyzed," he explained while holding back tears, "after a few weeks, he passed away, and we were all broken. His dream was to be on a stage like this, so we are doing all this for him."

After the performance, Wade showered the Indian group of young men and women with praises, saying: "My heart is beating at a rapid pace that I haven't felt before."

Adding: "I had this saying, whenever I hit a big shot, whenever I hit a game-winner, if it was one of those moments, I jumped up on the stands and I said, 'This is my house.' And today, on this stage, this is y'all's house."

Wade then hit his Golden Buzzer and got up onto the stage to celebrate with the Indian dance crew.

"Wow, wow, wow, wow," Hough simply exclaimed in her feedback for the dance crew. And Cowell said, "These guys reminded me that we have the best job in the world. To see your enthusiasm, taking it in that you're on an America's Got Talent stage.

"These are times, I believe, when we probably need each other, trust me we need you and I hope we can do something in return back for you."

By Sowmya Sangam