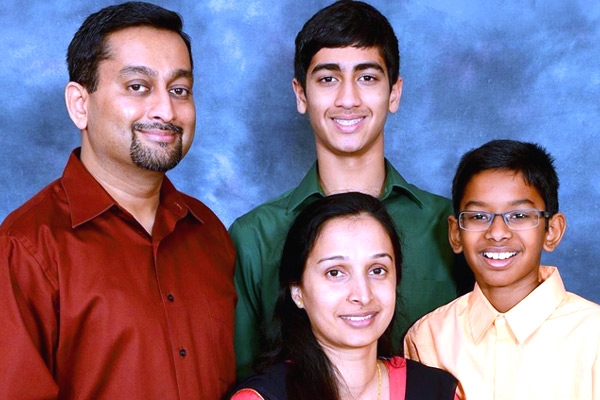 (Image source from: Facebook/Boby Mathew) Boby Mathew (left) Dolly Mathew (center front) and Steve Manoj (right))
An Indian American family of three lost their lives in a dreadful accident on the Sawgrass Expressway in Florida while on their way to the Fort Lauderdale airport after spending the long holiday weekend.  
The residents of Coral Springs - Boby Mathew (47), his wife Dolly Mathew (41) and their son, Steve Manoj (16) - crashed into a retention pond near the northbound entrance ramp toward Florida's Turnpike.
Following the crash, the car, a Honda Accord, drowned in water and the rescuers retrieved three family members trapped inside the submerged car out the vehicle.
According to the rescue team, the car lost its balance immediately after it exited the ramp and fell into the pond.
Hailing from Ernakulam district in Kerala, Boby is an IT professional in Dallas. The couple's elder son, Austin, was not with them at the time of the accident.
By Sowmya Sangam