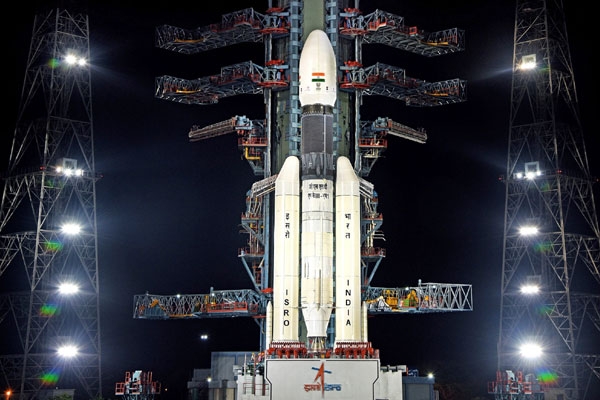 (Image source from: nyt.com)
The mission Chandrayaan 2 began its journey to the moon on July 22 2019. It revolved around Earth's orbit for 23 days.
Chandrayaan 2 took off from Satish Dhawan space center in Sriharikota, Andhra Pradesh on July 22 last year which marks one year of its launch today.
The Indian Space Research Organization (ISRO) on Tuesday confirmed that all the 8 pay loads are working well since the launch.
After revolving around the earth for 23 days, Chandrayaan 2 proceeded towards the lunar orbit on August 20, 2019. It was inserted into the lunar orbit and working as per plan by ISRO.
The global mapping of lunar surface and the polar coverage is being done accurately as planned by the Indian Space Research.
Data from the 8 pay loads of the mission have been taken and these pay loads are designed to provide information on
Presence of water ice in moon's Polar Regions.
X-ray based and infrared spectroscopic mineral information.
Mid and High latitude presence of a condensable gas, Argan 40 on the moon which gets released by radioactive decay of 40 K.
ISRO said that the report on data released from Chandrayaan 2 experiments were planned to be revealed at the Annual Lunar Planetary Science Conference in March 2020 but was canceled due to the grave situation of COVID-19 pandemic.
Public release of the science data will now be released in October 2020 for global use and details for accessing the data will also be provided by ISRO.
The Orbiter High Resolution Camera (OHRC) which is onboard the lunar orbit has already acquired 22 images of lunar surface which consists of nearly 1056 sq km area.
The camera is also used to characterize landing sites of future missions.
With the ISRO's contact with Vikram Lander, the Chandrayaan 2 mission has achieved 98% of its objectives as the orbiter is working very well.
The Vikram Lander has successfully separated from the Chandrayaan 2 on September 2, 2019. The Vikram Lander was aimed to soft land on the far side of the moon on September 2.
Minutes before its scheduled soft landing, the communication with Vikram Lander was lost. It was 2.1 kilometers above the moon's surface when ISRO's ground stations had lost the contact with the moon's surface.
Indian Space Agency on Tuesday marked the first anniversary of Chandrayaan 2, India's second moon, a mission by a Geosynchronous Satellite Launch Vehicle (GSLV) and on July 22 Chandrayaan2 was nicknamed as 'Baahubali' by ISRO.
By Gayatri Yellayi