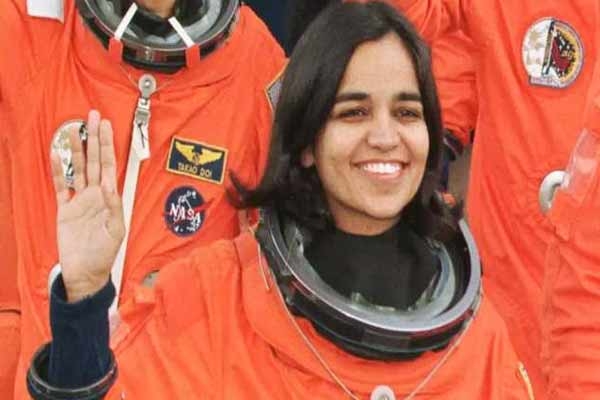 (Image source from: www.jagranimages.com)
Kalpana Chawla, the first Indian origin American astronaut to go to space, tragically died on February 1, 2003, along with six others, just 16 minutes landing as the Space Shuttle Columbia disintegrated over Texas during its re-entry into the Earth's atmosphere.
The Haryana-born astronaut's first space mission began on November 17, 1997, as part of the six-astronaut crew that flew the Space Shuttle Columbia flight STS-87.
On the 16th death anniversary of the Indian astronaut whose accomplishments go on to inspire scores, the nation is paying homage to their 'lost star'.
Tributes to #KalpanaChawla on her death anniversary. Kalpana may have gone from this world, but her life and achievements continue to inspire everyone around the globe. She is a true inspiration for young girls who dare to dream beyond the stars. pic.twitter.com/vWdc14h9Dp

— Dharmendra Pradhan (@dpradhanbjp) February 1, 2019
Humble tributes to #KalpanaChawla on her death anniversary. It has been 16 years since she left us in the Columbia Space Shuttle mishap. We remember her for her astronomical achievements. She continues to inspire all, especially young women, who aspire to become astronauts. pic.twitter.com/J49A3u1Rzr

— Capt.Amarinder Singh (@capt_amarinder) February 1, 2019
Remembering India's brightest star, immortal daughter #KalpanaChawla on her death anniversary. Kalpana's life shall always act as a source of inspiration for millions across the globe, especially young girls. pic.twitter.com/eWr3Nxvhtc

— Naveen Jindal (@MPNaveenJindal) February 1, 2019
Remembering Kalpana Chawla on her death anniversary - The woman who taught girls to dream of wings.Several scholarships, streets, universities and institutions in India and the United States have been named in her honour.#KalpanaChawla pic.twitter.com/QjwA1pDEdg

— Congress Sevadal (@CongressSevadal) February 1, 2019
Remembering #KalpanaChawla the first female of Indian origin to go to space on her death anniversary.
She will always remain an inspiration to all the young girls who aspire to think big and determined to make it happen. pic.twitter.com/8Ulgobyfck

— Dr. Mahesh Sharma (@dr_maheshsharma) February 1, 2019
Daring to rise, breaking the odds, reaching for the stars!

Tributes to Kalpana Chawla, the first Indian origin woman in space. One who never gave up on her dreams#KalpanaChawla pic.twitter.com/qzKZoOkmJw

— Geetika Swami (@SwamiGeetika) February 1, 2019
#KalpanaChawla, the first Indian woman in space, A role model for millions of young Indian youth.

Tributes on her SmrutiDin...! pic.twitter.com/C7El7IqoPn

— Kapish Goyal (@_KapishGoyal) February 1, 2019
-Sowmya Sangam